Who knew that an idea for a second career would result in a legendary brand that would enable the boating and watersports industry to progress and grow. You see, in the beginning, Indmar was was just an idea for a second career. At the time, Dick Rowe had just finished his 20-year hitch in the US Marine Corps and, along with wife Donna, they decided to set up a small industrial and marine supply distributorship; Indmar Products Company, Inc.Among their early products were industrial and irrigation pumps based on V-8 automobile engines.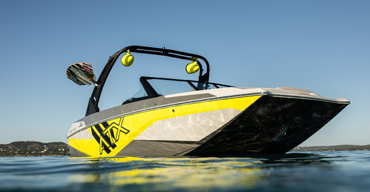 Then came a few custom marinized inboard engines for jet boat manufacturers. At first, this was a matter of bolting on "off the shelf parts". But the quality just wasn't there. So, Dick started making his major subcomponents to meet his quality and durability standards. This decision paid off. Word soon spread that Indmar marinized inboards were built to a higher standard
PEACE OF MIND PROTECTION
Not only does Indmar's Raptor Series offer more power, more torque and better fuel economy. More protection and peace of mind also come standard with our full 5-Year Factory Warranty.
Indmar's 5-Year Factory Warranty is administered directly through Indmar Products, Inc. and is fully transferable. There are no third parties or insurance involvement. The Raptor Series is an exclusive line-up that defies every challenge, especially the test of time.
5-YEAR WARRANTY


FACTORY BACKED

TRANSFERRABLE

COMES STANDARD
After running my new boat for 5 hours I stopped at the gas pump on the way home. I expected the pump to run for quite a while, but it clicked after only taking 9 gallons of fuel. Thanks Indmar for building the best engines on the lake!

Theodore Isaac Rubin

Happiness does not come from doing easy work but from the afterglow of satisfaction that comes after the achievement of a difficult task that demanded our best.

John B.